Outdoor wedding venues bring your big day to life, whether you want gorgeous mountain views, craggy coastline, or woodland photo ops. There are few places better for getting married outside than the West Coast of the United States, where you can find all of this and more.
As you consider your West Coast options, don't miss these ten outdoor wedding venues that all bring something unique to your special day.

1. Edlynn Farm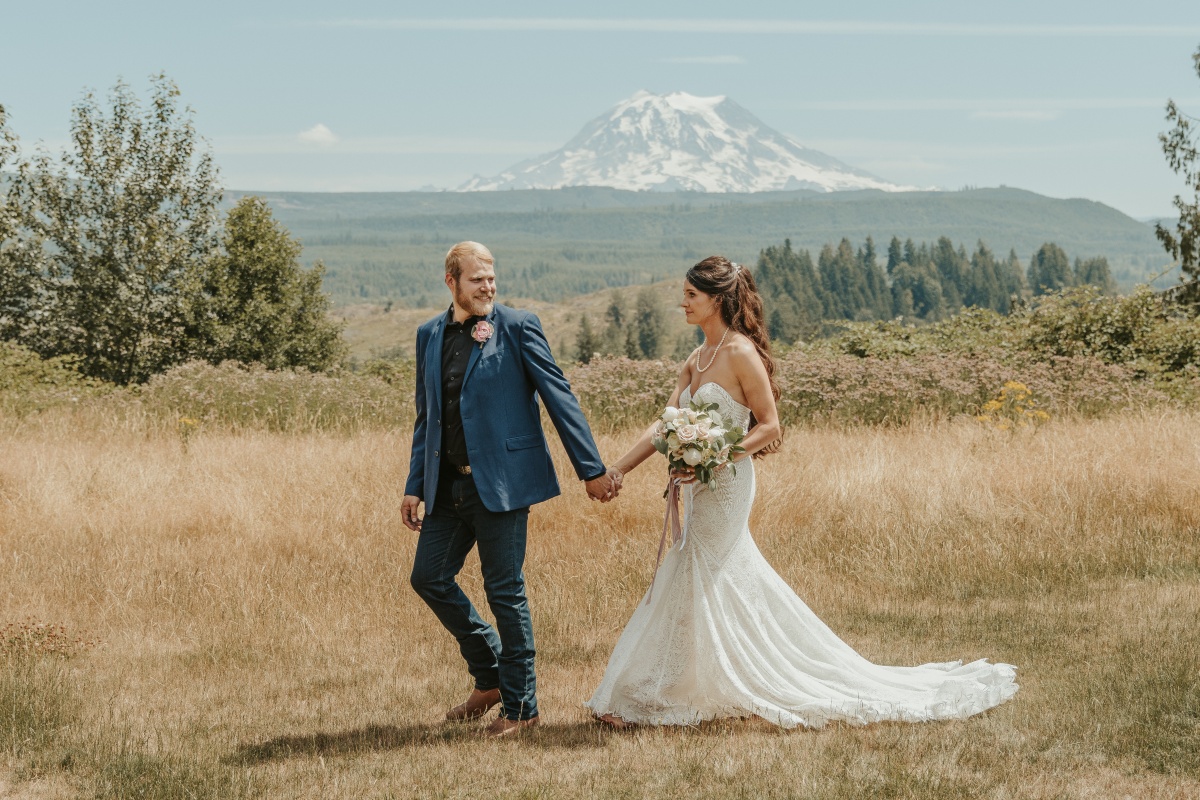 Source: Elishia Jackson Photography
Start your venue search at the base of Mount Rainier. Edlynn Farm is located an hour south of Seattle towards Mount Rainier National Park. You'll love how your ceremony photos stand out with Washington's iconic mountain, Mount Rainier, as the background. Plus you can enjoy rustic barn vibes for a memorable reception, where you'll have plenty of space to dance and enjoy the day with your family and friends.
2. Timberline Lodge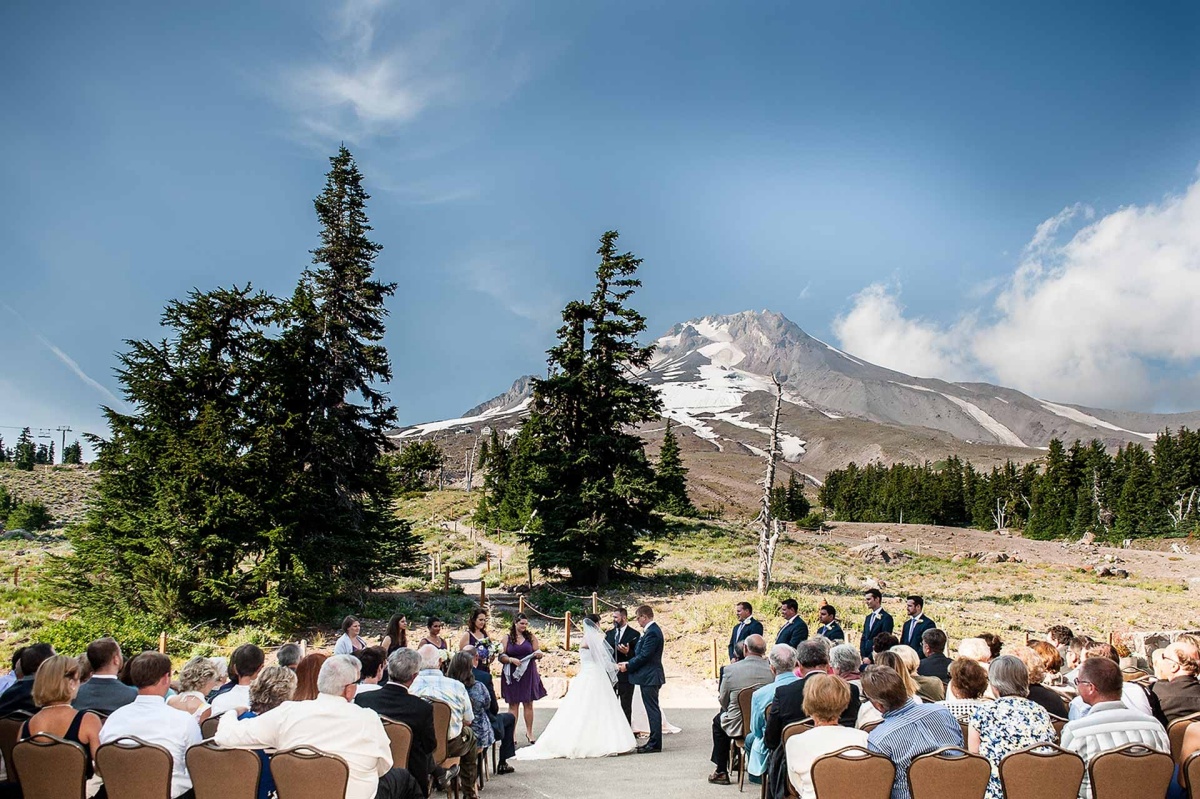 Source: Timberlinelodge.com
If want more than mountain views, get married on top of one by booking the Timberline Lodge, which is located on Mt. Hood. Both the patio and the amphitheater have breathtaking views that are perfect for any season. The patio can seat more than 250 guests for a ceremony and cocktail reception. If you want to move indoors after your vows, Ullman Hall can hold up to 200 seated attendees.
3. Multnomah Falls Lodge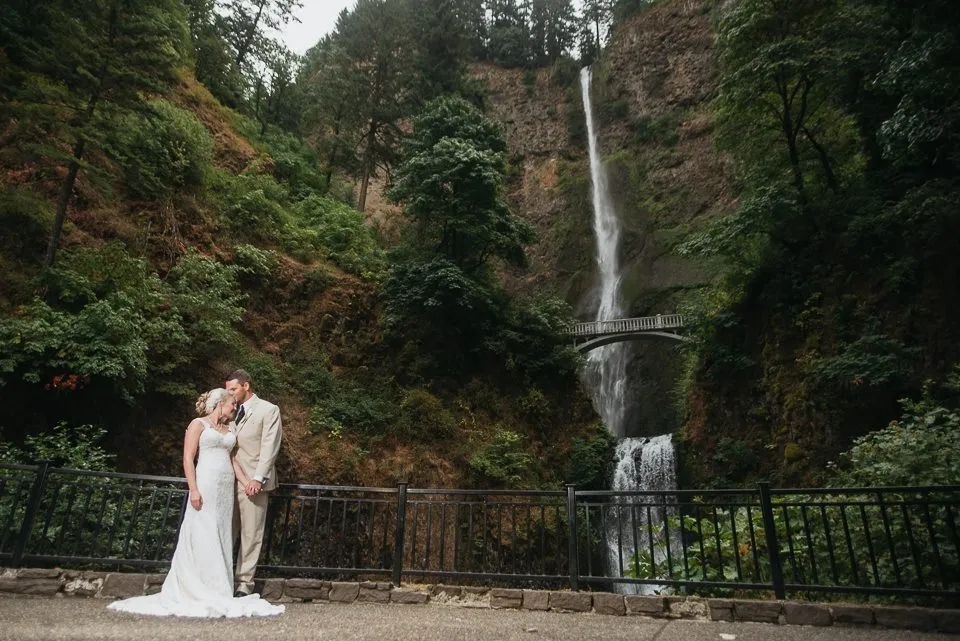 Source: multnomahfallslodge.com
Located just outside of Portland is Bridal Veil, Oregon, home to Multnomah Falls, one of the most unique backdrops you'll find among the many outdoor wedding venues on the West Coast. This iconic waterfall attracts thousands of visitors stopping to see it each year and Multnomah Falls Lodge offers both indoor and outdoor wedding options along with stunning photographs in front of the falls. The outdoor area can accommodate 50 people, so choose this option for a smaller, more intimate gathering.
4. The Inn at Diamond Woods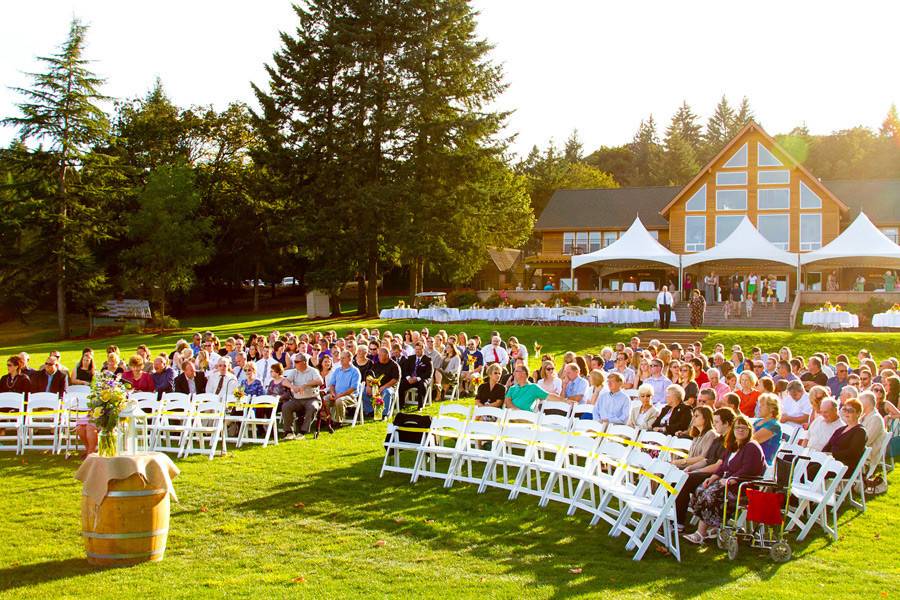 Photo source: WeddingWire.com
If you're planning a wedding near Eugene, Oregon, consider The Inn at Diamond Woods. There are beautiful Willamette Valley views and a 2,400-square-foot patio to take them all in. Your bridal party will appreciate the oversized dressing areas and four private guest suites as they help you get ready and stay overnight after the big day.
5. Crook Point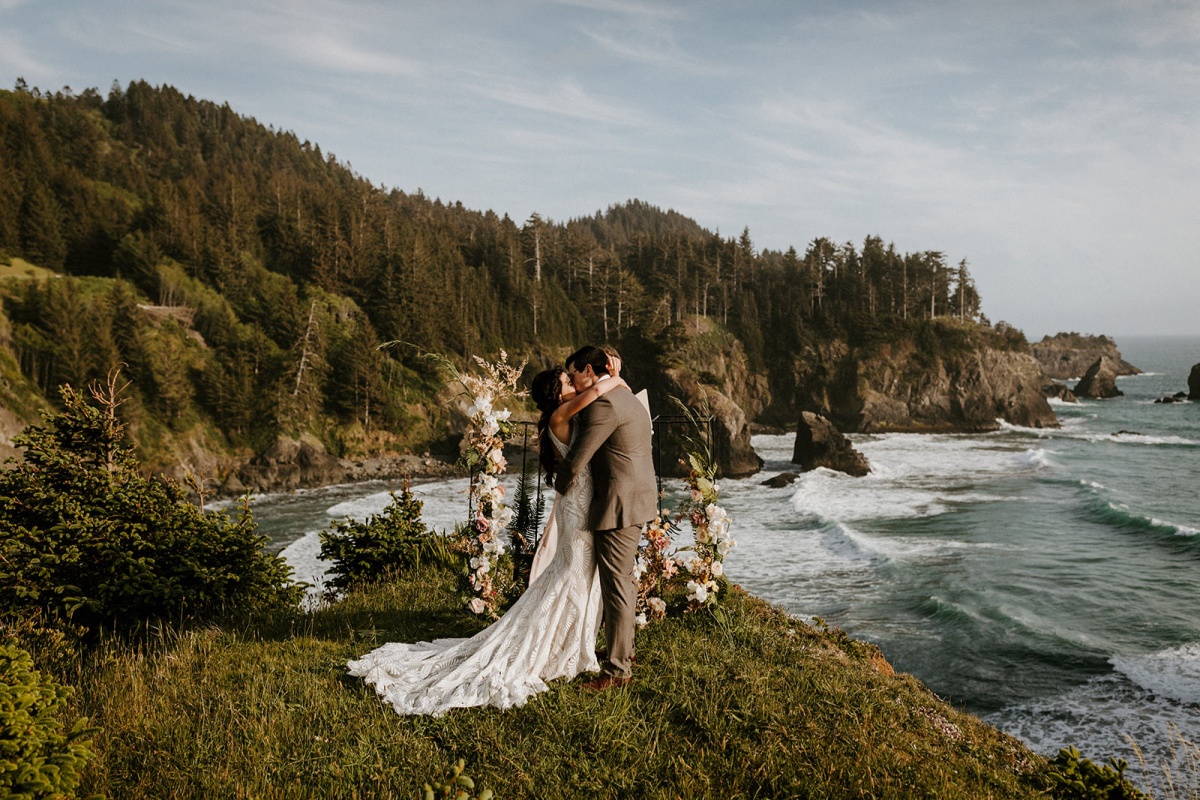 Photo source: herecomestheguide.com
In the southernmost part of Oregon, on the coast next to the border of California, you can find Crook Point. This is one of the best outdoor wedding venues to overlook the coast, which is packed with dramatic cliffs and rock formations. This venue can accommodate up to 300 guests across a 3,000-acre family estate. Many of the packages are meant to be inclusive so the venue will take care of most of the planning for you.
6. Cow Track Ranch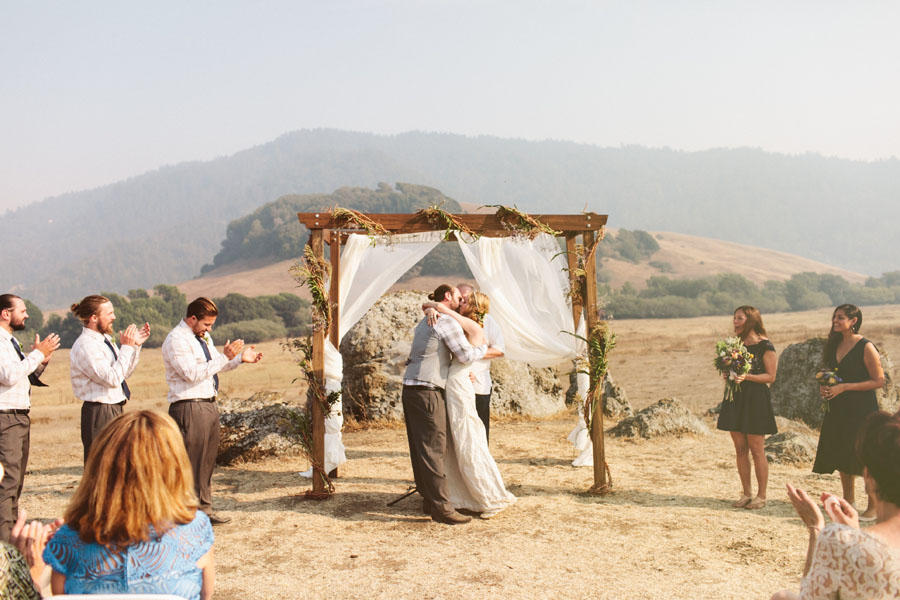 Source: kateharrisonphotography.com
Just north of San Francisco is Cow Track Ranch, a one-woman-owned ranch where visitors can stay, get married, and enjoy the rolling fields of Northern California. After your outdoor ceremony, enjoy your reception in the original 1970's hay barn, which is filled with antique decorations that will dazzle your guests. If you want to visit the venue, get away for a weekend and enjoy a farm stay. Meet some of the cows and learn about the 165-year history of this ranch.
7. Wedgewood Weddings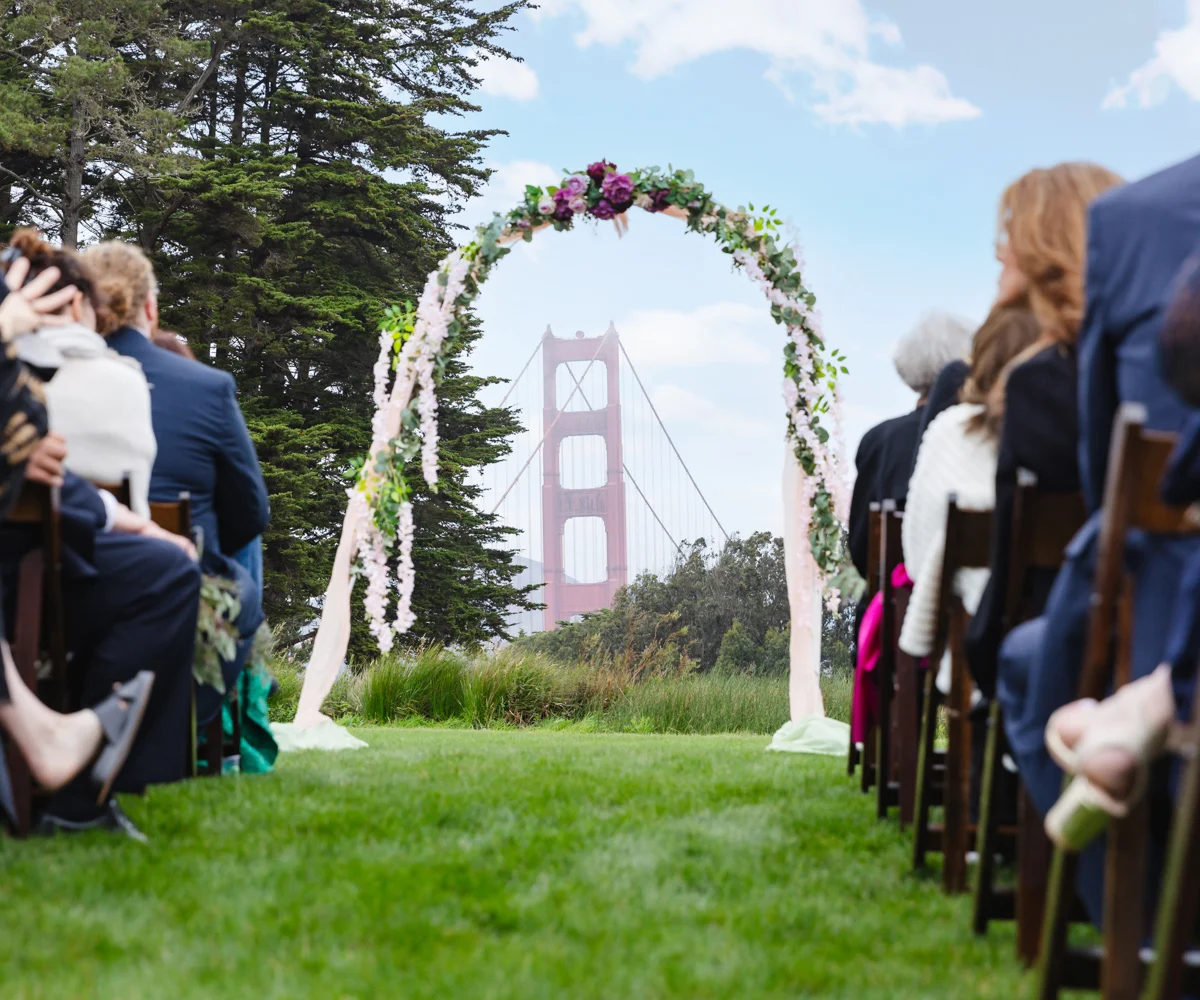 Source: wedgewoodweddings.com
Did you know that you can book a log cabin outdoor wedding in the middle of San Francisco? Wedgewood Weddings provides all the rustic vibes you need even though it's located at the base of the Golden Gate Bridge. This is a great option if you live in the city or want to find an easy-to-reach venue. Out-of-town guests can fly into SFO and won't need to rent a car to attend your wedding.
8. Loma Vista Gardens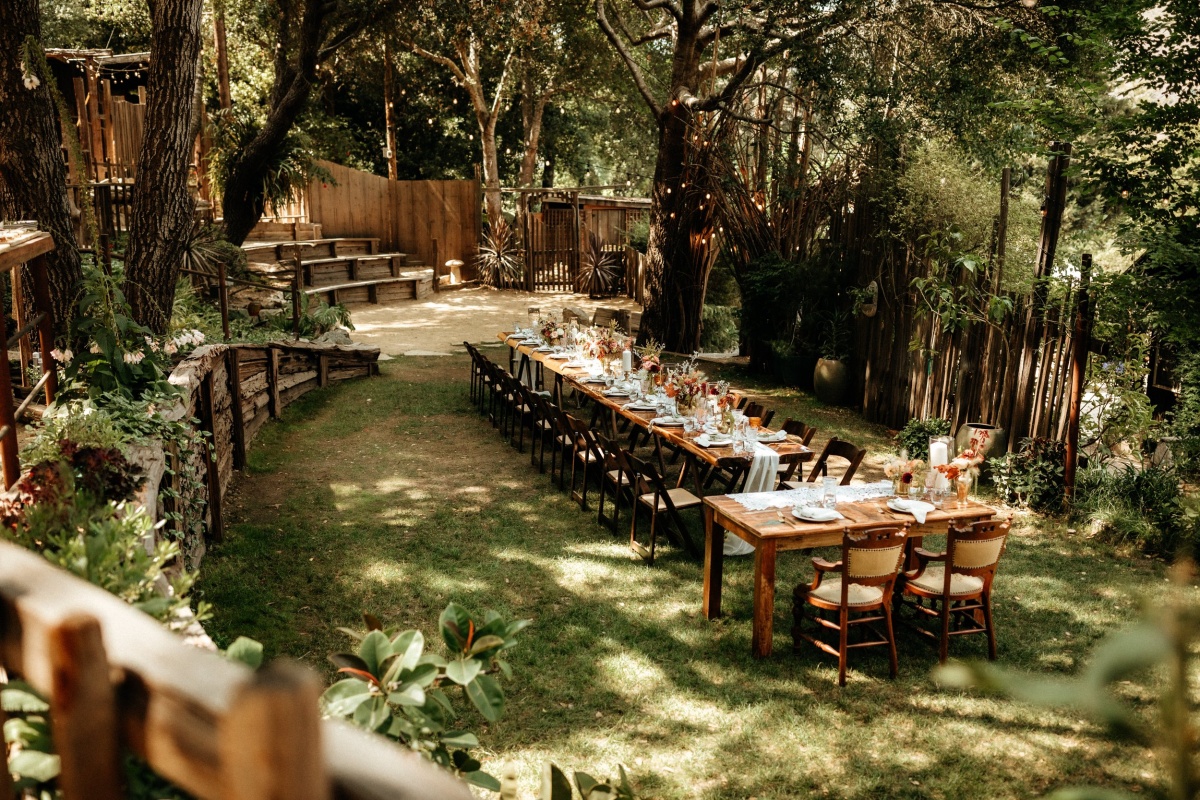 Source: lomavistagardens.com
Head down the Pacific Coast Highway to Big Sur, where you will find Loma Vista Gardens. This is the premier wedding venue for this popular area, with several beautiful outdoor ceremony and reception options. Packages range from micro weddings and elopements of less than 16 guests up to full-day parties with more than 200 attendees. Find an option that works for you.
9.  Whispering Oaks Terrace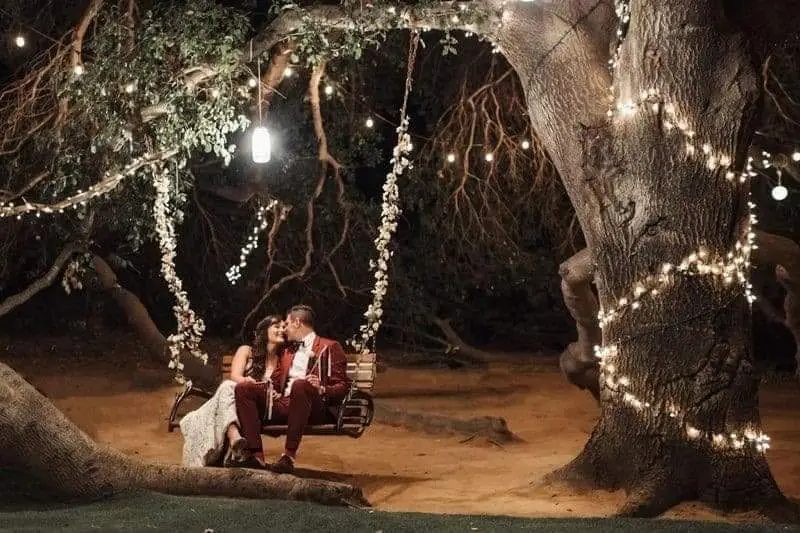 Source: weddingwire.com
If you live in Southern California, check out Whispering Oaks Terrace in between Los Angeles and San Diego. The property can handle 199 guests which includes your vendors. Take photographs in front of the 125-year-old grapevine and party the night away in the rustic barn. Plus, there's plenty of lodging nearby for guests traveling from out of town.
10. Mile High Oaks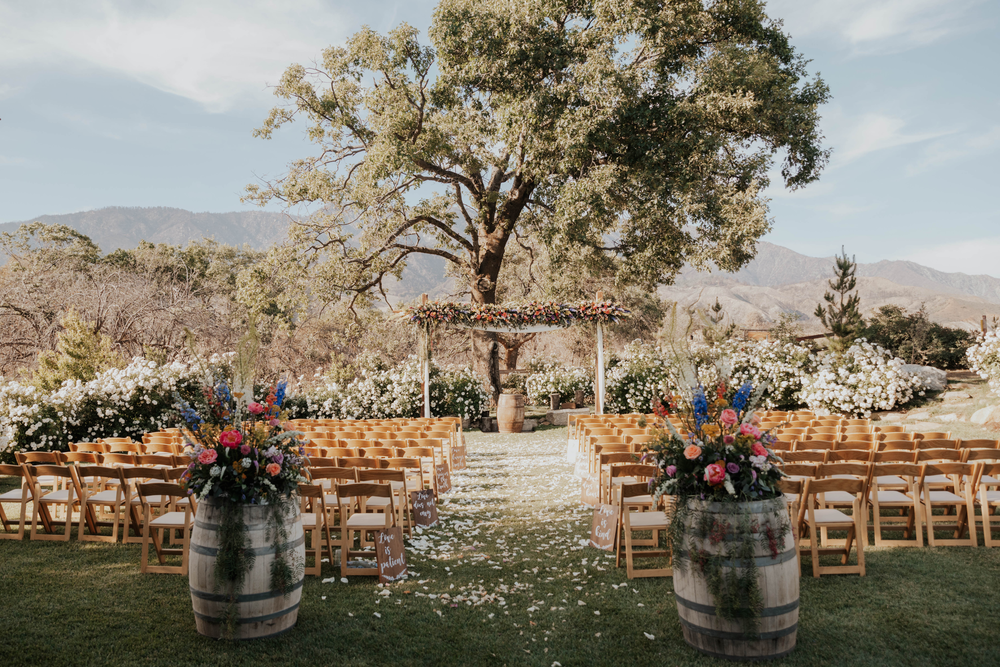 Source: milehighoaks.com
Head into the desert and explore Mile High Oaks, which is just outside of Joshua Tree National Park. Your wedding will overlook rolling mountains and a 250-year-old oak tree. Your guests will love watching the sunset. This venue can accommodate 100 guests. Make sure you reserve it quickly, Mile High Oaks is booked up until 2026.
Check Out the West Coast's Best Outdoor Wedding Venues
From Seattle to San Diego, there are countless stunning outdoor wedding venues to choose from. When determining the best option for your celebration, take into consideration details like rates, amenities, number of guests allowed, and staff support. All of these factors will help ensure that your venue can support the vision for your big day.
Feature image source: Flint and Stone