Pacific Northwest wedding venues are unique in what they can offer for your big day. Many are outdoors and surrounded by memorable views and stunning scenery. Pair this with all the usual aspects of choosing a wedding venue, and there are many questions you don't want to forget to ask.
As you chat with and tour your favorite Pacific Northwest wedding venues, keep these questions in mind. You have a vision for your big day and you need to choose a venue that can bring that to life for you—without any additional stress, fees, or challenges!

Question 1: What is your Capacity?
This is an especially important question in this area where rain is common. Inside versus outside capacity could change and the look and feel might be different too. Note that there's also a difference between what the venue can actually hold and what is comfortable.
For example, we are one of the largest venues in our area and can hold up to 300 people, whether your wedding is entirely outdoors or entirely indoors. This is thanks to our beautiful barn that is as big as it is beautiful, with all the rustic charm you want. As you can tell from the gorgeous photo of one our couples below: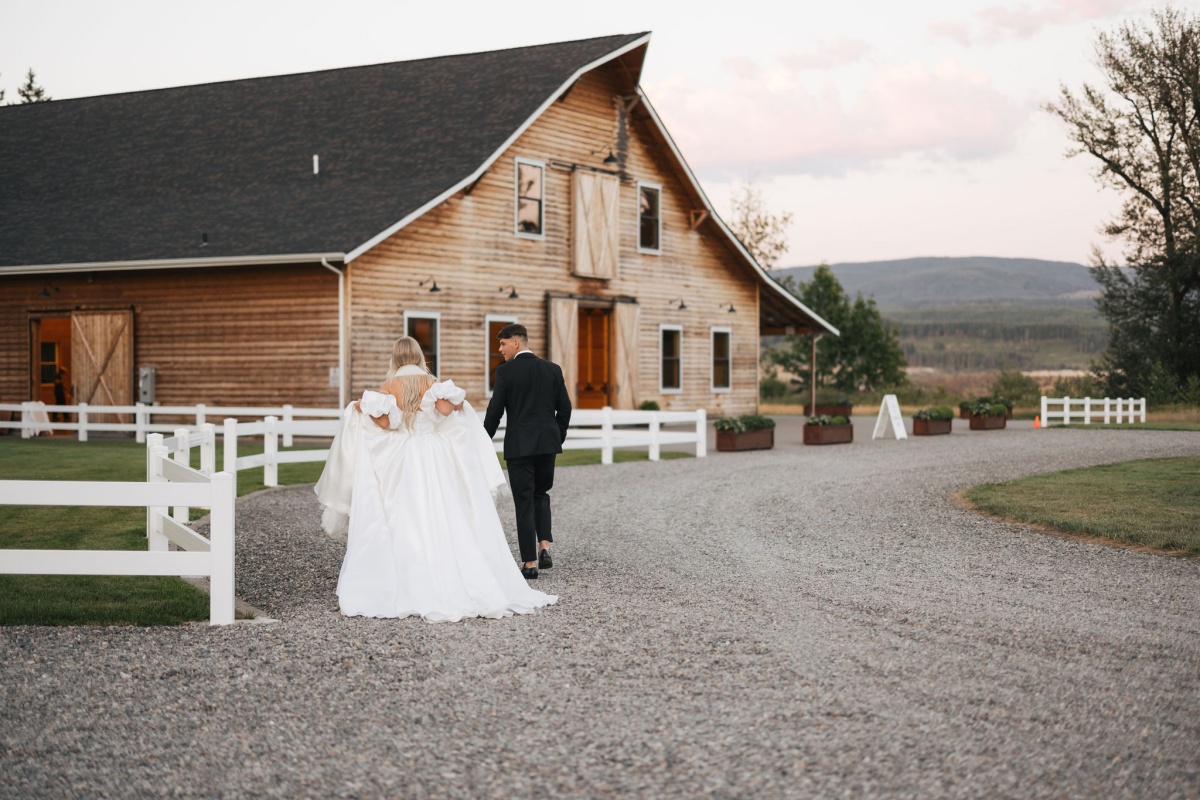 Source: Tara Ilchuck Photography at Edlynn Farm
2. What is your Weather Contingency Plan? 
This is such an important question to ask the Pacific Northwest wedding venues on your list. Will you have to compromise the vision for your day if rain comes? Can the venue still comfortably fit all your guests if the location changes? At Edlynn Farm, we have a few contingency options and we'll always be honest with you upfront about what's possible and what's not. For example:
Depending on the size of the guest list, we can host an outdoor ceremony under our patio awning and then transition indoors immediately for the reception.
If the weather is cold and crappy, we can also host the ceremony indoors and then flip the space to reception mode. During this time the guests usually head outdoors to the covered patio space with rented heaters and we move as quickly as we can. Most changeover periods take around 30 minutes.
3. Is the Rental Fee the Full Fee?  
No one likes hidden or additional costs and for many venues, there are additional costs for things like increasing headcount. However, this is something that we don't do at Edlynn Farm. We offer a rental package that gives a determined amount of rental hours, along with tables and chairs for a certain guest count number.
The only additional charges occur if you add time to the rental period, like coming in earlier to start hair and makeup early. You know this upfront, however, so those costs are built into your total fee—rather than being a surprise at the end.
4. Who will be with us on the day of the wedding?

In our experience, people like getting support. They don't want to just rent the building and then not have anyone there to answer questions or provide guidance. Unfortunately, for some larger Pacific Northwest wedding venues, this is exactly what happens and it can make your big day more stressful than it needs to be.
That's why at Edlynn Farm, we greet you upon arrival and make sure you're settled in the bridal cottage to get your day started just right. All of our brides and grooms have the direct cell phone number of our team and we also help:
Manage parking
Open doors for the bride's processional
Pick up chairs and move them from outdoor ceremony sites to indoor reception sites
Empty trash cans
Clean and stock the bathrooms
Whatever you need, we're there. This makes a difference on your big day, so make sure the venue you choose has the same approach.
5. What Are We Responsible for Cleaning Up?

Some venues will ask that you and your family clean up the space at the end of the night. At the end of a long day, that's the last thing anyone wants to worry about. We don't require our clients to pull or stack tables and chairs.
You are only responsible for removing any personal or décor items that were brought into the venue by you or your vendor team, which is usually minimal. You can go back to your room and relax while we stack chairs, fold up tables, and do the general cleaning of the venue, bridal cottage, and catering kitchen.
6. What Does your Getting-Ready Quarters Look Like?  
The space you get ready in not only sets the tone for your day but will be seen in photos for the rest of your life. You want it to be comfortable but also aesthetically pleasing, which makes sense! At Edlynn Farm, we offer a white cottage/farmhouse for the entire wedding party to get ready.
There are two separate getting-ready suites and a middle living room and kitchen area for mingling, spending time together, having snacks, playing games—whatever you want to use the space for. Here are some photos of this beautiful space:
Source: Saskia Potter Photography at Edlynn Farm
7. Is There a Parking Attendant On-Site During Guest Arrivals?  
What if my grandparents need to be dropped off at the door? Can we have reserved spaces for guests who can't walk far distances? How do we make sure people don't park in a way that might cause trouble when everyone leaves? There are so many parking questions, especially if you have a lot of wedding guests.
Not all Pacific Northwest wedding venues provide parking support—and your uncles and dads end up getting roped into it. That's why Edlynn Farm provides one, sometimes two, parking attendant(s) to make sure that guests get parked safely and that everyone is guaranteed a safe exit at the end of the night.
If someone needs to do a door drop-off, we'll direct them to our drop-off circle and then provide instructions on how to come back and park the vehicle. This means you can take parking off your list of things to worry about as you try to enjoy every moment of the day and make sure all your guests have the best experience.
Not All Pacific Northwest Wedding Venues Are the Same
You have a vision for your big day, but can the venue you love bring it to life? These are the questions you need to ask so you don't have any surprises at the end of it all. If you're checking out multiple Pacific Northwest wedding venues, keep these questions in mind and get all the answers before making any decisions.
Feature Photo Source: Tara Ilchuck Photography at Edlynn Farm
If you love the sound of what we offer here in this special corner of Washington, contact us or book a tour!