Your wedding coffee cart can be a memorable part of your wedding. One of the coolest things about weddings is that you can customize the big day to match your personality—and the same goes for the coffee cart. As with all the various pieces and features of your wedding, this comes down to how you integrate it into your special day. Use your wedding coffee cart to highlight what makes you two unique as a couple, while making the experience memorable, with these fun ideas.

1. Develop Signature Drinks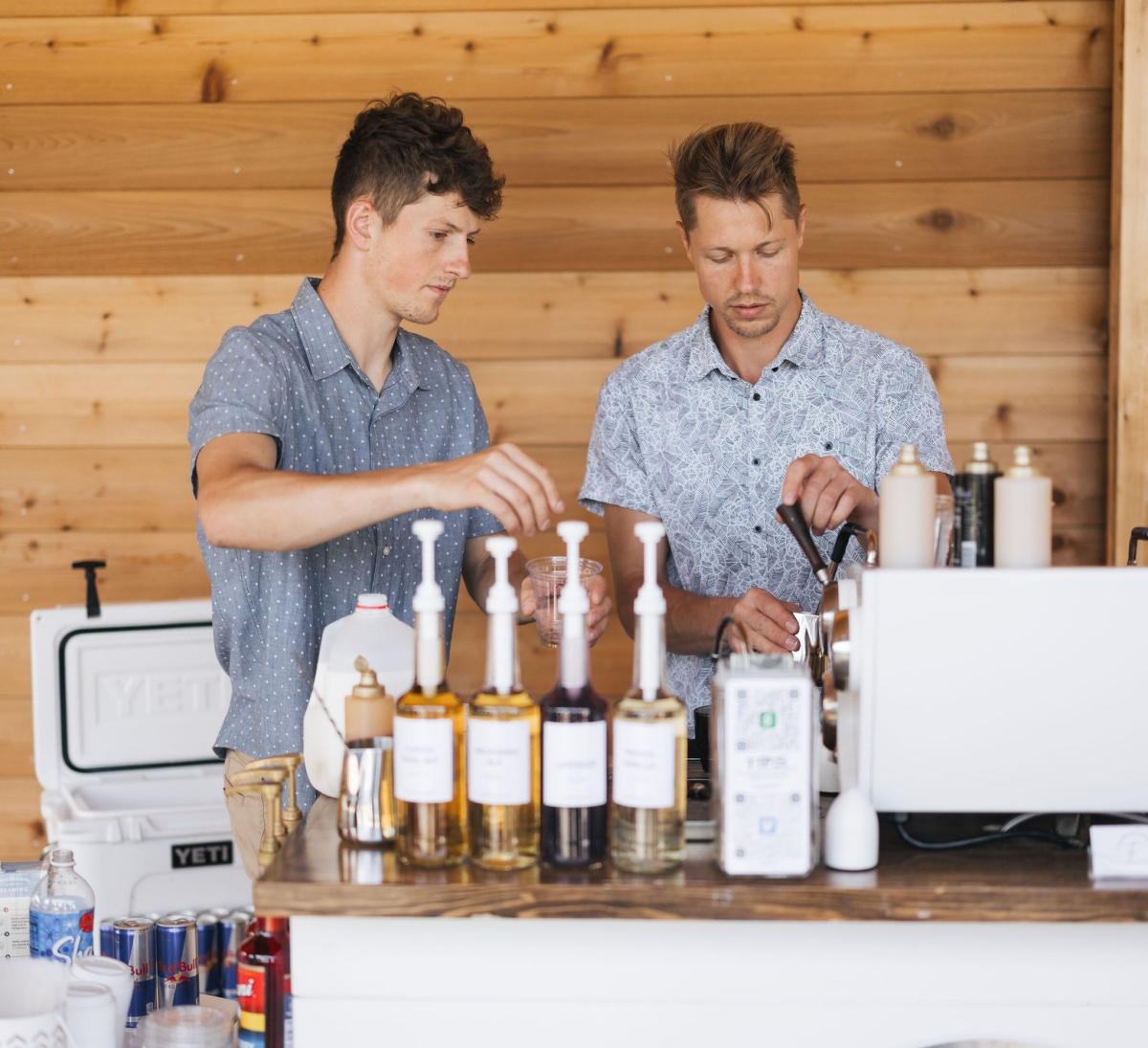 Source: Taras Ilchuck Photography and Fine Pour Coffee Signature drinks are common for cocktail hour, and you can use this same idea to make your wedding coffee cart stand out, too. Think about adding flavors or styles that allow you to put a spin on traditional drinks. For example, if one partner loves cold brew, their signature drink could be a "cold bridal brew."
2. Offer a Variety of Caffeine Levels and Flavors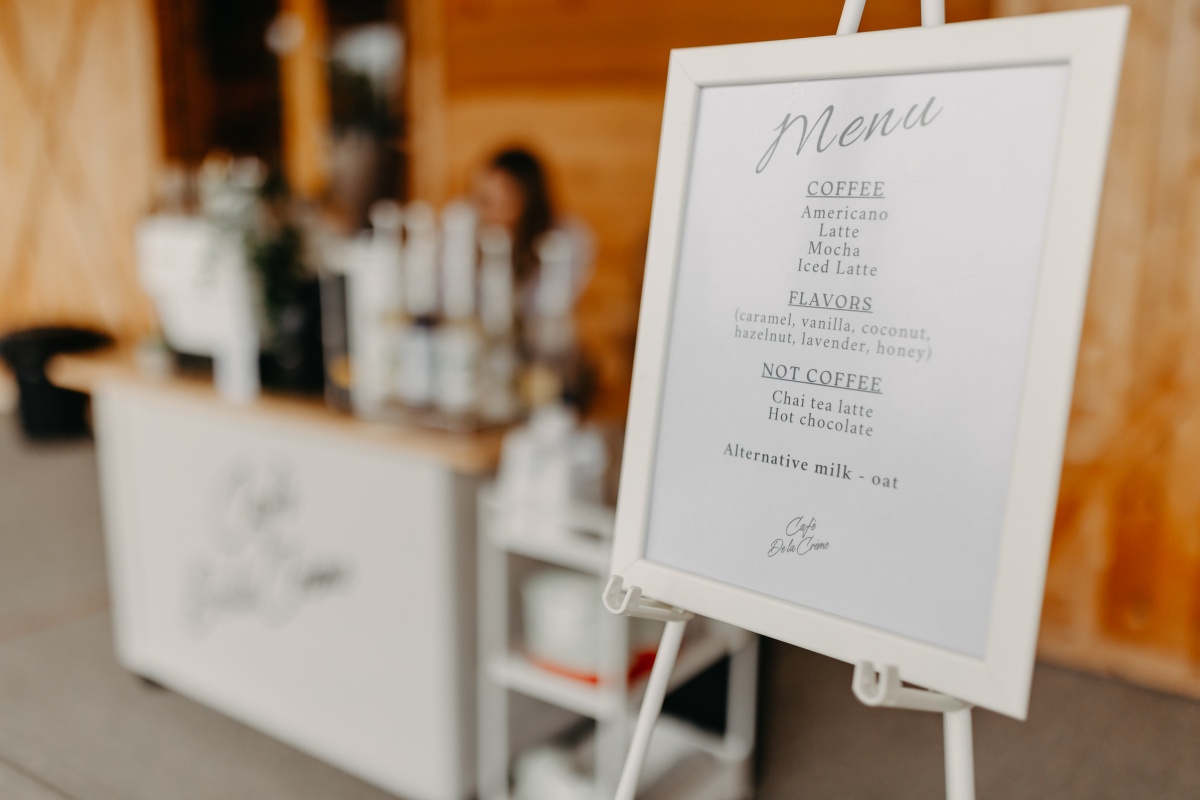 Source: Bogomaz Studio and Cafe De La Creme Picking a coffee cart menu is just like working with a caterer or baker. You'll have several options to choose from depending on your and your guests' preferences and this is a chance to accommodate everyone's needs and preferences. For example, make sure to offer a mixture of coffee and tea, along with caffeinated, decaffeinated, and non-caffeinated options. Some guests might love a shot of espresso while others want to sip on herbal tea.
3. Choose Your Placement Carefully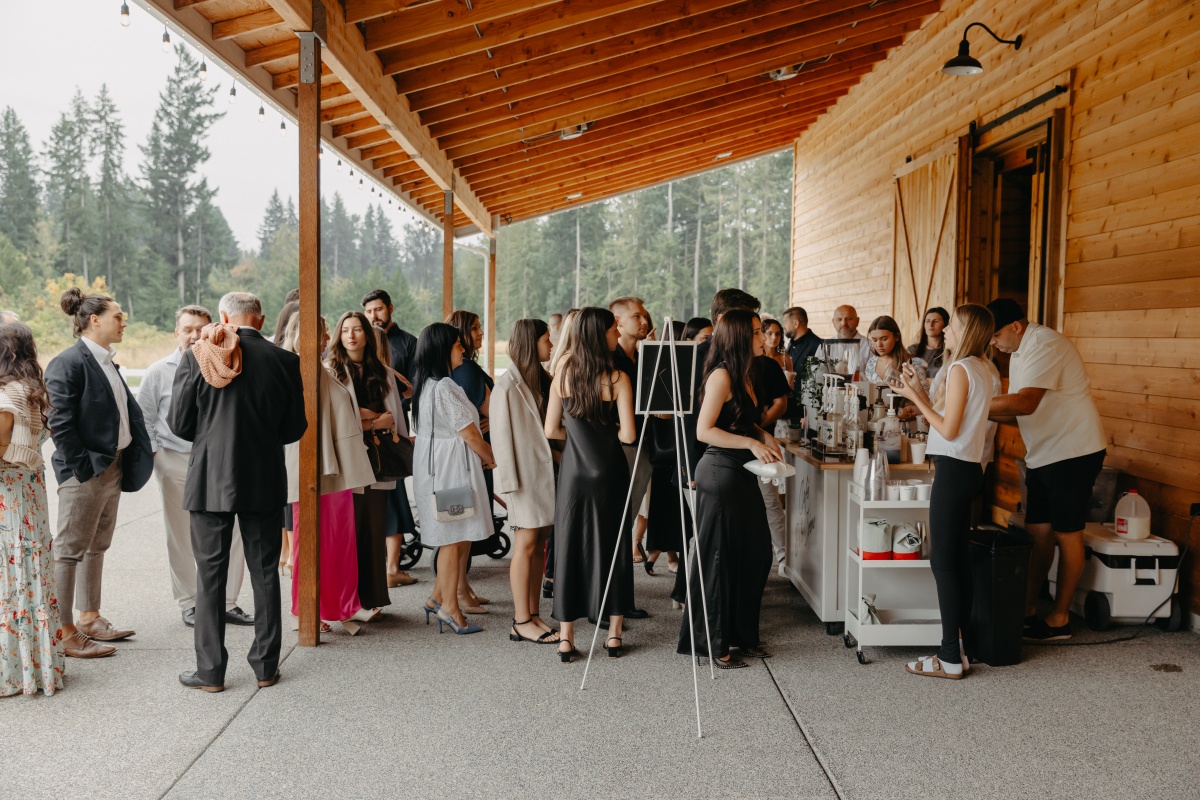 Source: Bogomaz Studio and Cafe De La Creme The layout of your wedding is key for creating the right flow—and this should be considered when placing your wedding coffee cart. Work with your vendor to see where they recommend setting up the station based on who needs what and when. The coffee cart should be easily found but you don't want to create bottlenecks as guests move around. Most coffee cart vendors can recommend a few key spots that will work for you and your wedding planner while keeping the drinks available at key times during the day.
4. Get Creative With Your Wedding Coffee Cart Decorations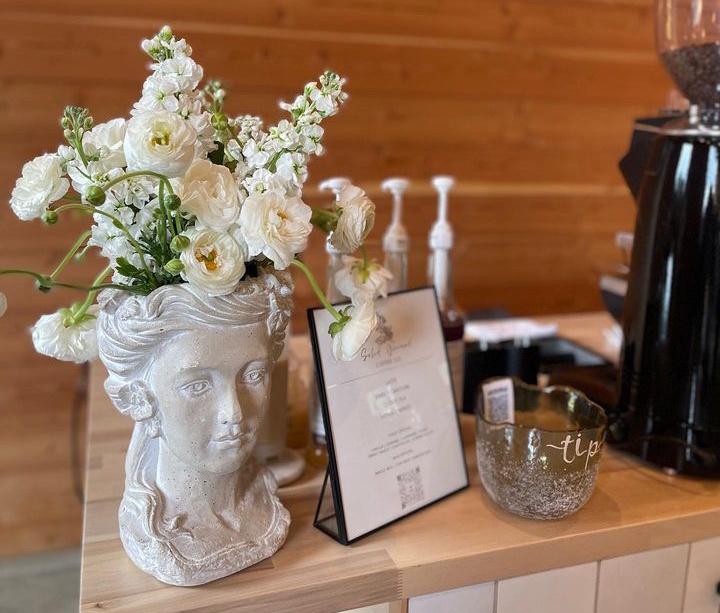 Source: Solid Ground Coffee Co. Your coffee cart can be so much more than a station where guests get a drink. We've seen some really special set-ups at Edlynn Farm! It's an extension of your big day, so work with your vendor to make it match the look and feel of your theme. Here are some ideas to consider adding:
Potted plants
Small sculptures
Framed photos
Hashtag sign or QR code for other information
While you may need to provide the added decor, it can go a long way in making the experience—and photos—stand out.
5. Don't Forget Your Wedding Mugs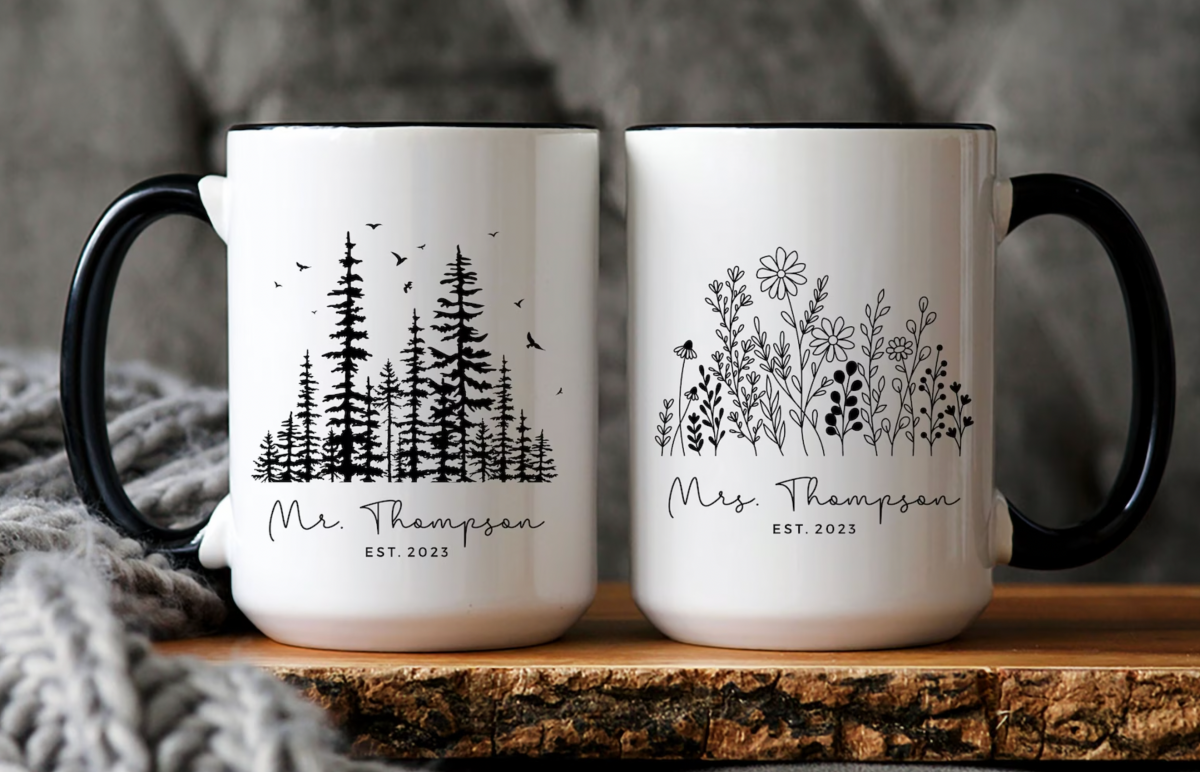 Source: Etsy Couples often have specially-etched champagne glasses for wedding toasts. These become precious gifts that are cherished long after the wedding ends. If your focus is on the coffee, invest in celebratory mugs for you and your partner instead! These can be bridal, related to the theme, or reflect your relationship. Every morning after the event, you can fill up your coffee with these special gifts and remember your beautiful day.
6. Make the Menu Easy to See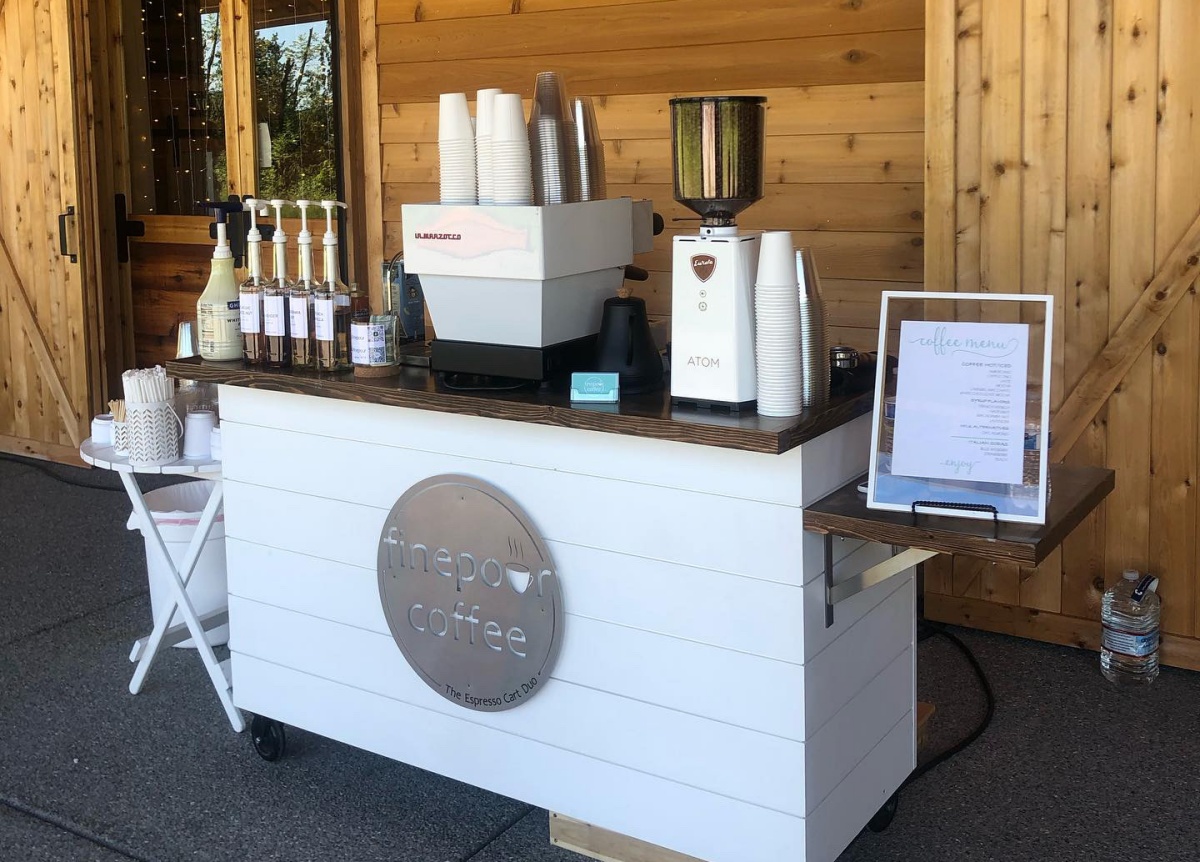 Source: Fine Pour Coffee If your guests love coffee, there might be a line at the coffee cart. Ask your vendor where they place the coffee menu and if there are extra stands they can use. This way your guests will already have their order in mind, making the process easier and faster for everyone. Keep the line moving so your friends and family can spend less time waiting and more time celebrating!
7. Pair Your Coffee With a Treat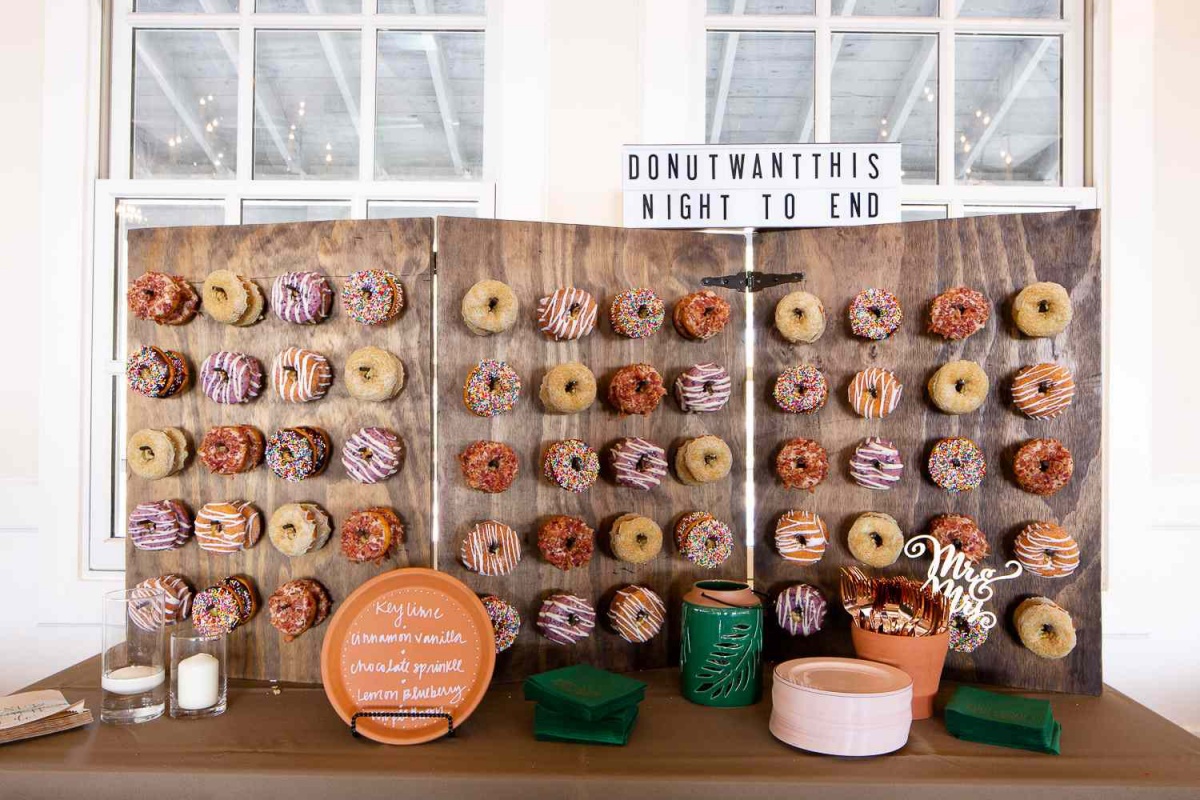 Source: Brides.com and Franzi Annika Photography Pair your coffee with a treat for your guests to enjoy like a donut or croissant. Donuts in particular can be fun if you put a donut wall next to the coffee cart. Let guests choose their favorite flavor after they get their drink! This is an especially good idea if your guests have a little wait between the ceremony and cocktail hour or the reception.
8. Plan for Inclement Weather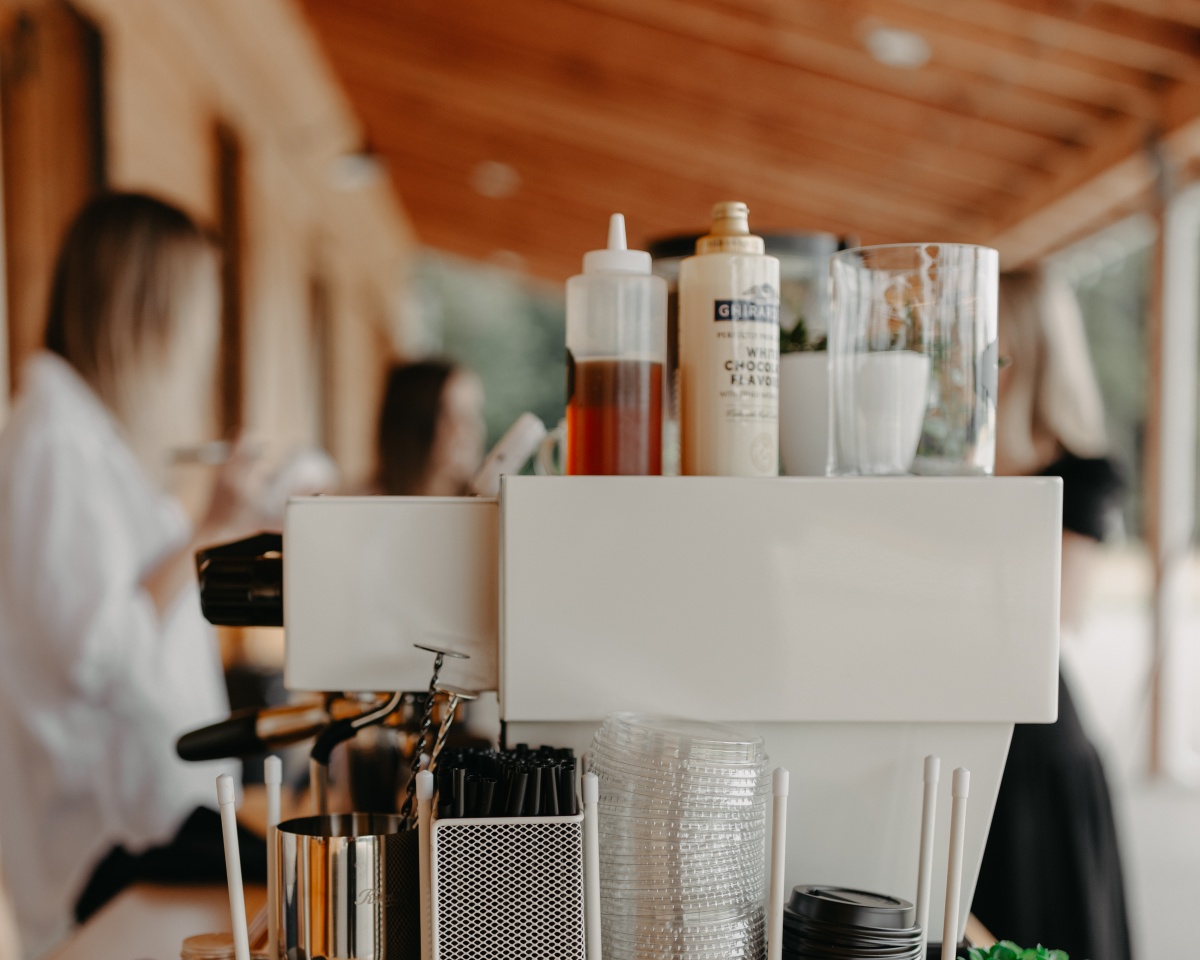 Source: Bogomaz Studio  We love outdoor weddings here at Edlynn Farm—but we also know that bad weather happens! This is why it's important to make sure your coffee cart is covered. While most venues, including ours, can make a last-minute change if needed, it's always good to think ahead and place features like your wedding coffee cart somewhere that can withstand some rain.
Make Your Wedding Coffee Cart Perfect
There are so many ways to make your wedding coffee cart stand out, from service to design. Keep these ideas in mind during the planning process so everyone has a good time. At Edlynn Farm, we're here to support you in figuring all these details out as well—we've seen many weddings and have plenty of ideas and suggestions for making every aspect of your big day perfect. Feature image source: Bogomaz Studio and Cafe De La Creme