More and more people are opting to have non-alcoholic wedding drinks for their big day. Whether your wedding is an intimate gathering of a dozen people or an extravagant affair with 200 of your closest friends, it's highly likely that at least some of your guests don't drink alcohol.
Not to mention, you might have relatives attending who are younger than 21, friends who are pregnant, or guests who simply avoid alcohol. In the United States, 36 percent of people say they don't drink, but that doesn't mean they don't want to party.
Make your guests feel welcome and comfortable by offering a variety of non-alcoholic options! Get creative with these non-alcoholic wedding drinks and ideas that go with any wedding theme.

Design a Signature Mocktail 
Signature cocktails express who you are as a couple and reflect the theme of the wedding. You might design a unique take on an old-fashioned if you met at a whiskey bar or ask your bar staff to make a Baby Yoda margarita if you both love Star Wars.
As you design these non-alcoholic cocktails, think of an equally creative option that young guests and attendees who don't drink alcohol would truly enjoy. This gives everyone something unique to choose from at the bar—and makes your big day that much more memorable.
Provide Multiple Mocktail Options
Ask your bar team if they can provide multiple mocktail options, along with designing a signature mocktail. Increasingly, more mixologists are playing with non-alcoholic options to create fun drinks so guests can have more options than seltzer water or soda.
Aim to offer at least two mocktail options, if not a few more. Think of it this way: not all of your drinks are tequila-based, some are also made with rum, whisky, and vodka. Keep your non-alcoholic wedding drinks varied as well so there's plenty to choose from.
Opt for a Lemonade Stand
Instead of hosting a cocktail hour before or after the ceremony, hire a lemonade stand to refresh your guests instead. This is the perfect option if you're not serving any alcohol at your wedding at all. Not only is it fun, but lemonade is something nearly everyone loves so it's a crowd-pleaser no matter who's in attendance.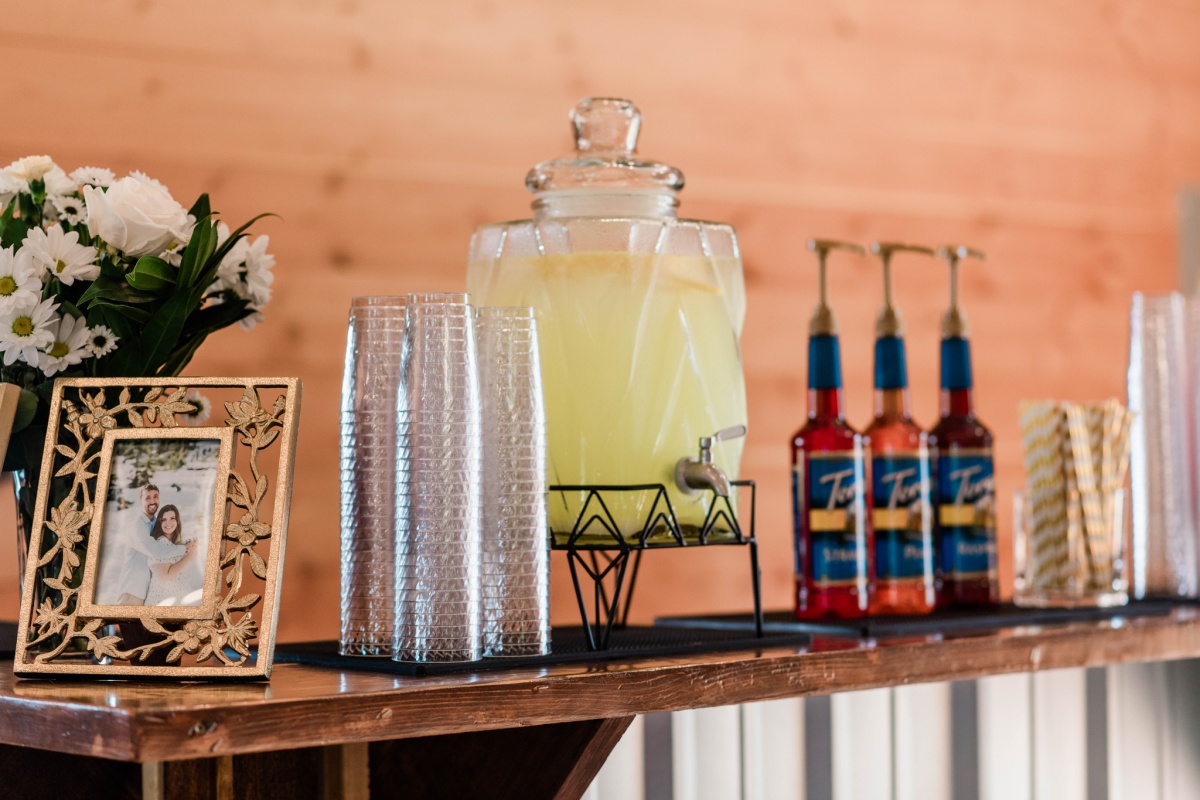 Source: Renee Powell Photography
This is a particularly smart idea if you are planning a summer wedding. A cool glass of lemonade is perfect on a hot day and can help your guests relax before they party into the night.
Look for Sparkling Alternatives for Toasts
The toast is always a fun and special part of the night, so make sure your non-imbining guests can partake as well. This is especially important if you're providing champagne for guests who are drinking alcohol.
If you don't want to buy a ton of sparkling cider, you're in luck! More and more companies are developing alcohol-free champagne that tastes just as good without all the sugar or booze. This is one of those non-alcoholic wedding drinks that will be fun for guests to drink and can also help them feel just as included.
Liven Up Brunch With an Orange Juice and Mimosa Bar
If you have an early wedding, consider setting up a mimosa bar. Guests can add berries and other garnishes to their drinks and enjoy them throughout the reception. This option is easy to make non-alcoholic by encouraging those guests to simply skip the champagne but keep it fun by adding some of the garnishes.
Make it even better for everyone with these simple ideas:
Include different juices, like guava, peach, or grapefruit.
Add non-edible garnishes to liven up every drink.
Provide unique or fun glasses, not just champagne flutes.
Ask Your Bar Staff to Garnish Non-Alcoholic Drinks
Speaking of garnishes, ask your bar vendors to present non-alcoholic drinks in the same manner as alcoholic ones. Small garnishes, like maraschino cherries or dried orange slices, can make a big difference in how a drink is presented. These garnishes also make non-alcoholic drinks blend in more, so it isn't obvious when someone isn't drinking, which the non-drinkers may like.
No one wants to feel left out with only water and soda to drink while everyone else gets fun cocktails and unique wine and beer choices. Make your non-alcoholic wedding drinks fun too!
Encourage Everyone to Enjoy Non-Alcoholic Drinks 
Non-alcoholic drinks aren't just for people who can't or choose not to drink alcohol. These are great options for guests who want to pace themselves throughout the night or who need to serve as the designated driver.
As the happy couple and the reason for the celebration, you can encourage everyone to try the mocktails or switch between cocktails, mocktails, and water throughout the night.
Set Up a Coffee Cart
Toward the end of the ceremony or during dessert, set up a coffee cart for everyone: guests can switch from alcohol to coffee or tea while non-drinking guests have another beverage option. Plus, coffee is the perfect addition to dessert and is just one more way to make your big day stand out in your guests' memories!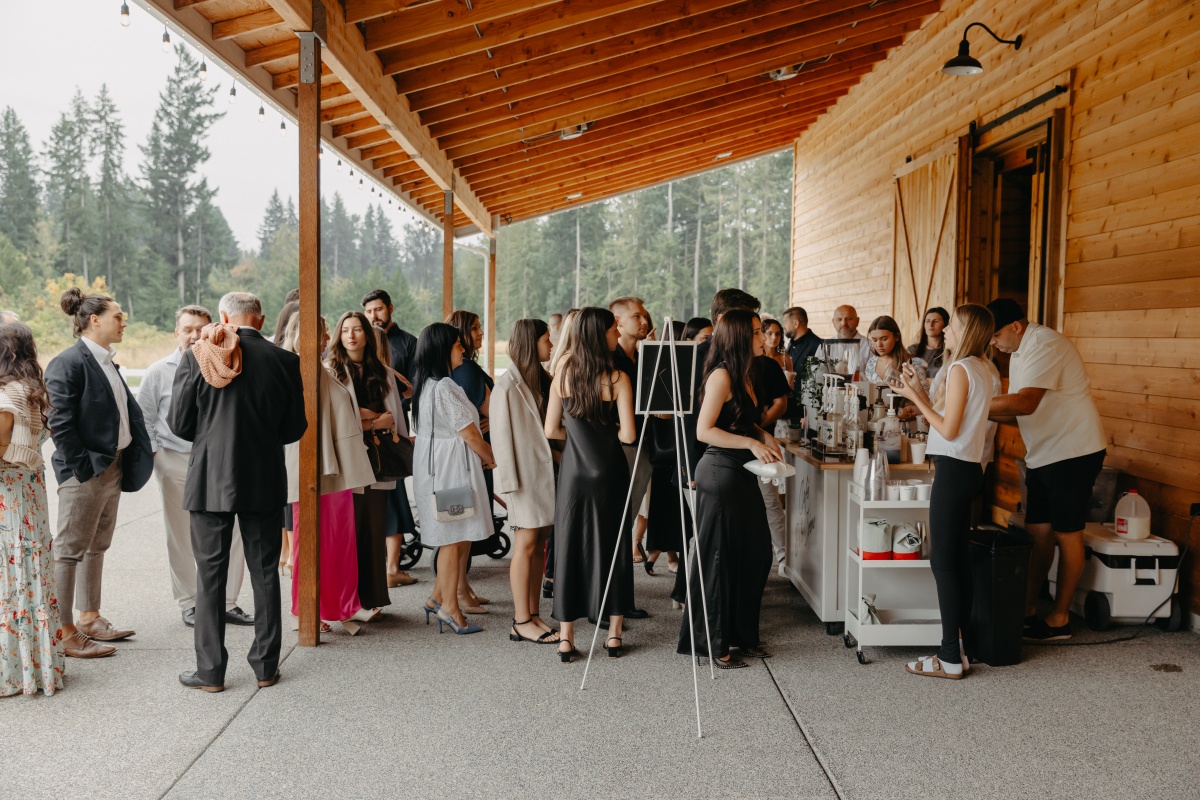 Source: Bogomaz Studio
We see a lot of coffee carts at Edlynn Farm, so check out some of the fun coffee cart options we've seen our couples use!
Re-Think Your Non-Alcoholic Wedding Drinks
Non-alcoholic drinks don't have to be boring or limited to minors. Instead, these beverages can enhance your theme and make the night even more memorable than it already is. Signature mocktails and alcohol-free champagne show your loved ones that you care about them and want them to have a good time and a small touch like that can have a big impact. Make sure you take your non-alcoholic wedding drinks as seriously as your alcoholic ones so everyone has the best time!
Feature image: Vivyanne Le Photography